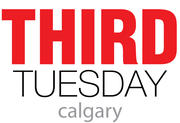 I'm getting a chance to visit old friends in Calgary early in March. And they've been nice enough to ask me to be the speaker at Third Tuesday Calgary.
I'll be arriving the previous afternoon from Sydney, Australia  and also will have spoken to another group at lunch. So, I've kept the promise and, hopefully, the expectations of my performance modest with a session description that I hope will spark some good discussion among participants once I've kicked it off. Here's the description from the Third Tuesday Calgary meetup site:
Things that keep Joseph Thornley awake at night…

Joseph Thornley will lead a different type of Third Tuesday Calgary discussion. What are the issues relating to social media that you keep coming back to? What are the ones that just haven't been put to bed yet?

He'll prime the discussion by sharing with us the things that keep him awake at night:

Twitterquette: How much honesty is too much? Can you make a critical point in 140 bursts? Or is better not to?

Social Media's relationship with Mainstream Media: (Yes, that again.) MSM takes pride in the editorial function. But is that still a factor when both the CBC and the Globe and Mail use CoverItLive to provide real time coverage of events like the Federal Budget and President Obama's visit to Ottawa?

Measurement: Are we what we measure? If that's the case, what is social media?

Fragmentation: It's not about blogging anymore. Social media tools have proliferated. And as they have, our presence has fragmented into shards spread around the social media scape. How do I stay in control of my own social media presence in this fragmented environment?

The social media creation gap: Canadians lag behind Americans in creation of social media content. According to Forrester's Social Technographic profiles, the number of online Canadians who are creators, critics or collectors is only half that of Americans who do the same things. Will we continue to be able to see ourselves in social media if this trend persists?
If you're in Calgary on March 4, I hope you'll come out to Third Tuesday Calgary and participate in the discussion. You can register online to attend.
Thank you to @andrewmcintyre for organizing this event. And as always, thanks to all the good people at CNW Group, who continue to support Third Tuesday as our national sponsor.