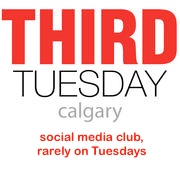 What's in a name? Well, if the name of the event is Third Tuesday, it definitely doesn't mean that the event will be held on the third Tuesday of the month.
Every month in cities across Canada, including Toronto, Montreal, Ottawa, Vancouver, and Calgary, Third Tuesdays offer participants a chance to meet and hear from thought leaders about the evolution of social media, online community and their impact on our relationships with one another and societal institutions.
Third Tuesday is unique both in its longevity – five years and counting – and the fact that it brings these speakers not just to one city, but to cities across the country. In effect, it has become digital Canada's national meet up.
But still, after five years, people often ask me why Third Tuesday rarely occurs on a third Tuesday. Well there's a simple answer.
When we first organized Third Tuesday, we selected the name not because the meetings were intended to be on a third Tuesday (in fact, the first meeting was held on a Monday in Ottawa), but because the term Third Tuesday carried no meaning or association. We didn't want to be limited to a discussion of any one technology or development. A name like Third Tuesday gave us an opportunity to allow the focus of Third Tuesdays to evolve over time.
We are not partial to any particular technology or line of thought. We follow the evolution of online communications, with an emphasis on how people use them for communication, collaboration, and community building. If anything, our perspective is a combination of anthropology and sociology with technology. It's not about the latest shiny new object. It's about what people want to do and how technology is removing the barriers that prevented them from doing it.
So, if you see a Third Tuesday organized in your city and it's on the second Tuesday or the first Monday for the fourth Wednesday, don't be surprised. But do consider joining the discussion. No previous knowledge required. Just bring your curiosity and an open mind.
Thanks to Doug Lacombe, the organizer of Third Tuesday Calgary for his retake on the #3TYYC logo that I've used in this post.