Terry Fallis' story started out the same as that of almost any other unpublished writer with a first novel. Pitch it to every publisher he could find – and be rejected by every one. And it could have ended there – as it does for most first time writers.
But Terry knew something about social media. And he decided that, if he couldn't get his book to readers in the traditional way, he'd try to get it to readers in a totally different way. He'd read a chapter a week and distribute it as a podcast on his Terry Fallis blog and via iTunes.
And that's the way The Best Laid Plans found an audience. Via social media. Virally. One fan at a time found it, liked it and passed it on to friends.
Some of the people who heard about the book and read it were on the selection committee for the Leacock Award. They liked it. In fact, they liked it so much that they nominated it for the award. And in a true Hollywood ending, Terry Fallis' The Best Laid plans won the Award in 2008. And then traditional success followed. He picked up representation from one of Canada's leading literary agents and a traditional publishing deal from one of the country's most prestigious publishers, McClelland & Stewart.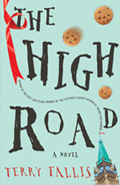 Well, Terry's back with a sequel, The High Road. And he's persuaded his publisher, McClelland & Stewart to test his approach again to see if lightning will strike twice. This is a first for a Canadian publisher. And I'm sure that others are watching closely to see whether podcasting the book in advance of publication will lift sales.
This week's Inside PR, features an interview with Terry about how he and McClelland & Stewart are using social media to promote his book. Following the interview, Martin Waxman, Gini Dietrich and I talk about Terry's experience and whether it can be more broadly replicated.
Listen to the episode:

Inside PR 2.09
[ 29:45 ]
Play Now
|
Play in Popup
|
Download
Here are the complete Inside PR show notes, prepared by our producer, Yasmine Kashefi.
0:23 Martin opens the show.
2:50 Joe mentions that Terry Fallis' book podcast has made it to number one on the iTunes literature podcast charts.
4:03 Joe interviews Terry about how he used social media to promote his two books.
13:00 Martin, Joe and Gini comment on how innovative Terry was with his approach to social media to promote his book and himself.
19:00 Joe presents this week's topic, recent developments in social media. He starts with the YouTube news feed and how citizen journalism has changed how news is defined.
24:21 Joe adds that the move toward government 2.0 has been gaining momentum and cites the Australian government's Gov 2.0 as an example.
25:53 Martin introduces a new closing segment, the round up.
26:12 Gini kicks off the last -30- segment on Inside PR.
28:14 Martin wraps up the show.