I'm really excited about this news: Jeff Jarvis is coming to Third Tuesday Toronto #3TYYZ and Third Tuesday Ottawa #3TYOW for the Canadian launch of his new book, Public Parts: How Sharing in the Digital Age Improves the Way We Work and Live.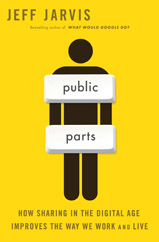 Blogger at Buzz Machine. Author of  What Would Google Do? Associate professor and director of the Tow-Knight Center for Entrepreneurial Journalism at the City University of New York's (CUNY) Graduate School of Journalism. Co-host of This Week in Google with Leo Laporte and Gina Trapani and Leo's TWiT netcast network. And now author of a new book, Public Parts.
Jeff will be coming to third Tuesday Toronto on a special day, Thursday, November 17, and to third Tuesday Ottawa on Friday, November 18. Yes, that's third Tuesday on a Thursday and Friday.
This should be a great event and we've booked a larger hall so that we can accommodate as many people as possible. Still, if past experience is any guide, we'll sell out. So if you're planning to be in Toronto on November 17 or Ottawa on November 18, click over to the Third Tuesday Toronto or Third Tuesday Ottawa sites and sign up to meet and hear Jeff Jarvis.
And if you're worried about getting a copy of the book, all attendees who sign up will receive a copy of public parts when they arrive at the event. So you'll have your copy their to have autographed by the author.
Third Tuesday Ottawa #3TYOW and Third Tuesday Toronto #3TYYZ with Jeff Jarvis. I hope to see you there.
————–
As you know, Third Tuesday is a community-oriented, volunteer-driven event. And we wouldn't be able to bring great speakers like Jeff Jarvis to Third Tuesdays across the country without the support of some like-minded sponsors. We've been lucky to have some great companies step up over the past several years to help us make Third Tuesday happen. Big thanks are due to CNW Group, Rogers Communications, the Canadian Internet Registration Authority, Radian6 and Cision Canada for making the 2011/12 Third Tuesday season possible.