It happened. Finally. After several years of little change for my favourite RSS reader, Google Reader, it's out with the old and in with the new this morning.
When I signed onto Google Reader today, I was greeted with this message: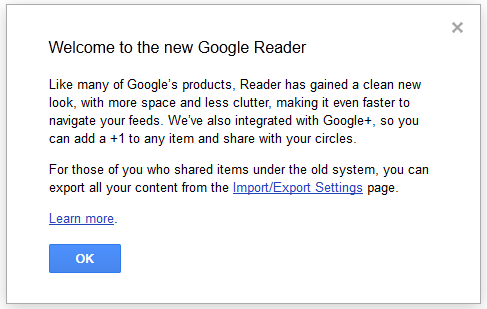 With the new version of Reader, I'll be able to share interesting content publicly via my Google+ ID. Or I can share them only with circles that I have selected as being interested in specific subjects. I also can add my own comment to highlight what I find most interesting or remarkable in the article.
This is all good news to me. I've been a consistent user of Google+ since it launched. And I've curated circles of people I follow by subject area. So, I'm getting great value from my time on Google+. Now, with the integration of Google Reader sharing features, it will be easier for me add content that I find worthwhile – and hopefully that will draw more people to follow me on Google+.
So, it's goodbye to some of the old sharing features. And it's hello to sharing and promoting content via Google+. I like it.