While I was on vacation two weeks ago, the real world kept intruding by way of reports of a plummeting stock market and world leaders in full-out crisis mode. On Friday of last week the Conference Board reported that Canadian consumer confidence is at a 26 year low.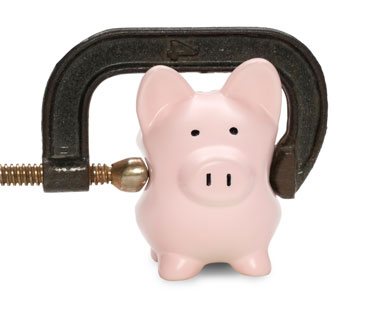 The warning signs are inescapable. Challenging times lie ahead.
What does this mean for companies like Thornley Fallis and 76design? We have to prepare ourselves to receive telephone calls that start with, "We've decided to reduce the budget…" or "We're holding off proceeding with the next phase…" or "We've decided to consolidate our spending with one agency."
What are we doing about it?
Well, first, I am changing my own thinking from "grow, grow, grow" to "cash is king."
In the coming recession, there will be surviviors and there will be casualties. I made some mistakes in the 2001-2002 downturn and I'm determined not to make those mistakes again.
This simple change of mindset will drive a whole series of cascading decisions. We won't stop growing where we can, but we will be more selective in our investments. More cautious. Less open to higher risks.
How does this translate into our day to day reality?
Zero Budget
First, we're resetting all of our discretionary budgets to zero. This will force each decision-maker to make fresh decisions about how we spend money. What worked yesterday may not work today. So, let's reexamine what we're doing to be sure that we put our resources behind those things that work and match up against the new tighter economic realities.
Maximize
Second, I'm asking each manager to maximize the use of our current human resources – the people who are the essence of our company. Instead of recruiting ahead of our need for people, we will wait until people are working flat out before we hire new staff. In tough times, it's much better to be too busy and working very hard than to be sitting in an office in which you know that there are too many people for the work to be done.
Choose
Third, we will be more selective in the new business opportunities we pursue. The best opportunity is a happy client who says, "Let's keep working together." Next to that, we will scrutinize closely the opportunities and make pragmatic decisions based on our assessment of the prospects for success of the potential client, their business strength and why they have come to us. We won't participate in any competitions for business unless the prospective client tells us that there is a clear reason that they have come to us. If they know our core strengths or one or more of our team and they really want to work with us, then we'll compete. If they've selected us off a list so that they can round out a competitive roster, well, sorry, we'll pass that one by.
But wait. There will be opportunities to grow
Ironically, at the very time that things are tightening, there will also be opportunities to grow and to plant the seeds for future growth.
There will be companies that look to make more effective use of their marketing budgets. There will be suppliers whose core business comes unstuck and who shed good clients as their ability to service them is diminished.
By paying attention to our business fundamentals through zero budgeting, maximizing and choosing, we will be able to answer the call when those opportunities arise. If we do this, we can emerge from the recession with all our capabilities intact and as a stronger competitor.
What's your view?
So, that's our gameplan this week. I say this week because in this time of uncertainty, we are  reexamining our assumptions and assessments as every week goes by. What seems right to us today may not seem quite so right next week. And we will be ready to change our stance as the world changes around us.
How about you? Have you already felt the effects of the downturn? What are you doing at your company to weather the recession?