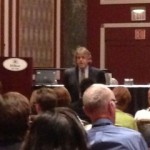 I'm in New York attending the International Association of Business Communicators' 2013 World Conference (#IABCwc13). It's a big commitment of time. And an expensive trip. And proving to be well worth it.
Why?
The chance to see thought provoking presentations by Mark Schumann, Shel Holtz, Katie Paine, and Richard Edeleman. And that's only in the first day and a half of the conference. Still two days to go – and many other promising presentations ahead.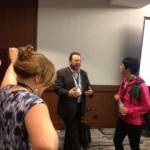 The opportunity to renew relationships with old friends and meet people in real life whom I've come to know online. IABC draws people from around the globe to its conferences. This international focus makes its World Conference a truly global affair. It seems like the whole world comes together here.
Yes, I'm happy I came to the IABC World Conference. And if you didn't but are thinking about attending next year, remember this post. I promise you, it's worth the effort. A great conference. A great learning experience. A great networking opportunity. And this year, the chance to be in New York. A great city that never gives up.