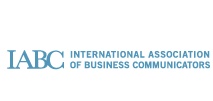 Here's an unfortunate situation. The International Association of Business Communicators has rescheduled its annual World Conference to the same weekend as Canadian Public Relations Society National Conference.
The CPRS announced some time back that the 2009 CPRS National Conference will be held in Vancouver June 7-9, 2009. Now, I've received word in the IABC's member newsletter that the IABC World Conference has been rescheduled to overlapping dates, June 7-10, in San Francisco.

Like many Canadians, I belong to both the IABC and the CPRS. The principal benefit I receive from these associations is the opportunity to attend their professional development conferences. By attending these conferences, not only do I have a chance to keep abreast of the latest thinking about communications, but I also have a chance to meet and discuss these ideas with other communication professionals from across Canada and North America.
Scheduling these conferences to occur on the same weekend is a terrible waste of resouces and potential.
In this case, it appears to me that the party responsible for this conflict is the IABC, which changed its conference date. Now, some might say that this doesn't matter. They may see IABC as primarily a US-based organization. But to those, take a look at the number of active IABC chapters in Canada, including the largest IABC Chapter in the world, Toronto.
So, here's my call to the leaders of the IABC: Serve your members better. Coordinate your conference dates with the CPRS so that your Canadian members can have the opportunity to participate in all of the professional development conferences that you offer.
Update:
I wasn't alone in my annoyance at IABC's move. PRWeek reports that "Derrick Pieters, director of communications, Department of Justice Canada, Prairie Region and the North in Edmonton, and CPRS president, said they were surprised, and not initially warned, of the date change. "It is unfortunate there is a conflict, but it was just an unfortunate set of circumstances as to how it happened," Pieters commented. The article quoted me as saying that "the IABC, as the bigger, international organization, has 'not played nice in Canada.'"