Wo

uld you take a 60% reduction in your salary in order to keep your company alive? The President of b5media, Jeremy Wright, would – and has.
In the first heady days of blogging, every conference and gathering of bloggers would echo the question: "How do I monetize my blog?" One answer was to join a blog network – harnessing the power of a single advertising sales team to place ads on your blog along with other blogs in the network.
Since its launch in September 2005, b5Media has been a pioneer in testing and reshaping the blog network model.  In its four year life (so far), it has evolved substantially – evolved in terms of what it presents, its authors, how it compensates bloggers and how it packages and sells the advertising opportunities. In February of this year, b5media evolved further, consolidating many of its 300 individual blogs into a handful of portals focused on specific subjects.
There is no doubt that b5media has attracted viewers. Each month, b5media receives 30 million page views from 10 million unique visitors.
Now, however, the recession is hitting advertising budgets and advertising sales – hard. Traditional media has been first to take a hit. We`ve seen newspapers disappear and television stations close. But online media outlets have not escaped. And b5media has been hit as hard as anyone.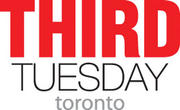 So, Jeremy and his management team developed a survival plan. Jeremy took a salary cut to just above minimum wage. Other senior executives left the company. All in the name of preserving the core publishing platform to grow again when post-recession budgets are restored.
That takes guts. And it takes belief in a vision – a vision not only for a company but for the entire sector.
So, what is that vision and belief that caused Jeremy Wright and his executive team to choose the course they did? Well, come to the next Third Tuesday Toronto to find out. Jeremy will be in the Third Tuesday Toronto spotlight next week. He'll talk about the survival plan he developed and what he hopes the future will bring for b5media, blogging and online advertising.
You can register online to attend Third Tuesday with Jeremy Wright. I hope to see you there.
And a big thank you to CNW Group, whose sponsorship for Third Tuesday has been rock solid – even through the recession.
UPDATE: We reached our room capacity only 2 hours and 10 minutes after announcing Jeremy's appearance. Happily, the Berkeley Heritage Event Venue was willing to put us in their larger space. So, we've increased the number of spaces for the event.