Over the past five years, I've been working to move Thornley Fallis and 76design from a dying traditional PR business model to a new business model more in tune with the disintermediated world of individual voices and communities of interest. A world in which anyone with something to express can have a voice and others who share their interests can find them and develop relationships with them that transcend the restrictions of geography. In short, a world of social software, social media, communities of interest and relationship building.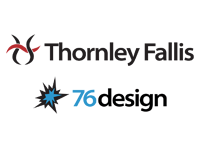 What does our new business look like? Well, its draws on a broader range of skills than have traditionally been associated with PR. Yes, we start with our established understanding of communication and design as an enabler. But we add to this an understanding of sociology, group dynamics and organizational design. An understanding of search engines and always-on mobile connections. And an ability to design Web applications to enable people to do the things we are imagining.
It's one thing to see these new opportunities. But it's another thing to instill excitement about them in others. And it's even tougher to get people who are successful in doing things the way they always have done them to open their minds to the likelihood that they may not be able to sustain this over the long term.
So, I was delighted to read how LeeEllen Carroll, a member of our Ottawa team with a background in traditional journalism, described Thornley Fallis and 76design in a posting on the shift+control blog.
[Thornley Fallis and 76design] help clients reach, connect with, and build and sustain positive relationships with their communities through the integrated use of on-line and off-line tactics.

We design the creative, build the innovative, and manage the complicated.

Every member of our firm believes in the power of digital engagement. Everything we do is designed to foster that. We engender mutual respect and trust between our clients and their respective stakeholders and audiences. Our clients are a mix of high-profile corporate brands, bleeding-edge startups, government and associations. For these clients, we go beyond. We don't leave it at working for and representing them; we believe in them, we brag about them.

Our shop is dynamic, open-minded, eclectic and centrally located. Our style is fresh, friendly, professional and invigorating.

The common thread in all of our efforts is a big idea of what the conversation economy can do for our clients to solve real business challenges and create new business opportunities.
I didn't write this. I didn't even know about it until I read it on the blog.
So why am I delighted to read this description? Because LeeEllen has described the new kind of company that will thrive in the era of social media. In her own words. Without any prompting from me.
An organization and its culture cannot be changed by fiat. They can only be changed by common agreement among the people who populate it. To succeed, the people who work at our company must come to share our new vision and see themselves being successful through it.
LeeEllen's description of the company tells me that the people I work with understand the changes in our business and are embracing them. We are well on our way in the transition from the old model to the new. We're making progress. And that feels good.